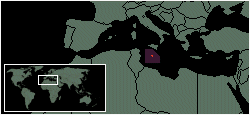 The Republic of Malta is a small and densely populated island nation consisting of an archipelago of seven islands in the middle of the Mediterranean Sea. Malta lies directly south of Sicily, east of Tunisia and north of Libya, and the country's official languages are Maltese and English. The strategically located islands constituting the Maltese nation have been ruled by various powers and fought over for centuries.


In 1814, as part of the Treaty of Paris, Malta officially became a part of the British Empire, and was used as a shipping way-station and fleet headquarters. Malta's proximity to the Suez Canal proved to be its main asset during these years, and it was considered to be a most important stop on the way to India. In the 1930s, due to Malta's cultural and geographical proximity to Italy, the British Mediterranean Fleet was moved to Alexandria. Malta played an important role during World War II, owing to its vicinity to Axis shipping lanes. It held several Allied airbases, including one operated by the OSA.
Ad blocker interference detected!
Wikia is a free-to-use site that makes money from advertising. We have a modified experience for viewers using ad blockers

Wikia is not accessible if you've made further modifications. Remove the custom ad blocker rule(s) and the page will load as expected.